Retail sales slip 0.4% in February as consumers pull back on spending
video
Supercore inflation isn't providing the economy any relief: Omair Sharif
Inflation Insights founder Omair Sharif and Kaltbaum Capital Management founder Gary Kaltbaum react to the hotter-than-expected January CPI report and what it means for future Fed rate hikes on 'The Claman Countdown.'
Americans pulled back on spending at retail stores in February as demand cooled in the face of stubborn inflation and high interest rates.
Retail sales, a measure of how much consumers spent on a number of everyday goods, including cars, food and gasoline, fell 0.4% in February, the Commerce Department said Wednesday. That is slightly below the 0.3% decline projected by Refinitiv economists and a marked drop from January, when sales rose 3.3%.
Consumers spent less at restaurants, auto dealerships, furniture and home stores and department stores, and more on necessities like groceries. Excluding spending on autos – which is often volatile – retail sales declined 0.1% in February.
"Recession fears are rising as consumers will likely retrench after the scares within the banking sector," said Jeffrey Roach, chief economist for LPL Financial. "The trajectory of consumer spending weakened in February and now with volatile short term borrowing costs, the economy may soon tip into recession. Although our base case has the Fed hiking rates next week, the turmoil in short-term dollar borrowing may force the Fed to pause."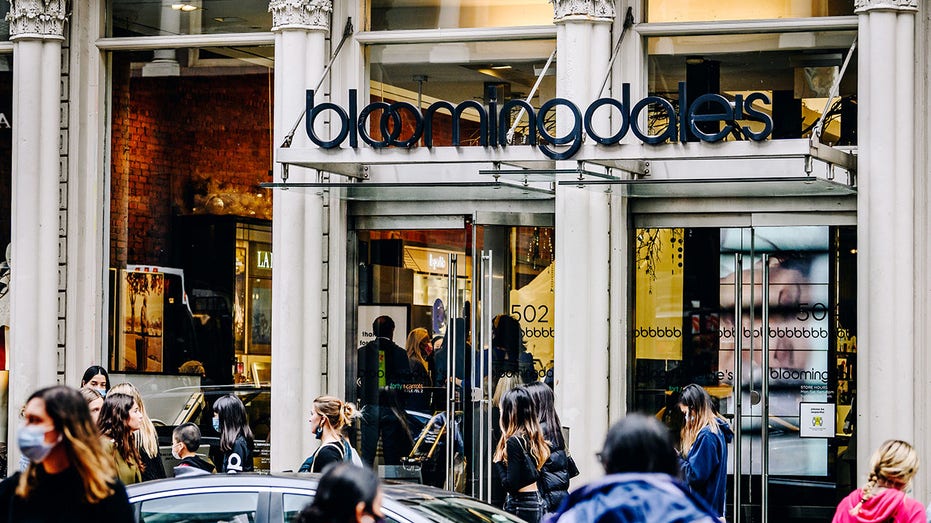 Bloomingdale's department store in the SoHo neighborhood of New York, U.S., on Sunday, Oct. 24, 2021.  (Nina Westervelt/Bloomberg via Getty Images / Getty Images)

US NATIONAL DEBT ON PACE TO BE 225% OF GDP BY 2050, PENN WHARTON SAYS

The data comes at an increasingly uncertain time for the economy: Back-to-back reports released this week indicate that inflation is cooling ever so slightly, but that it remains about three times higher than the pre-pandemic average. At the same time, the Federal Reserve is in the midst of the most aggressive rate-hike campaign since the 1980s as it tries to cool the economy.  

Rising interest rates could force consumers to pull back on spending.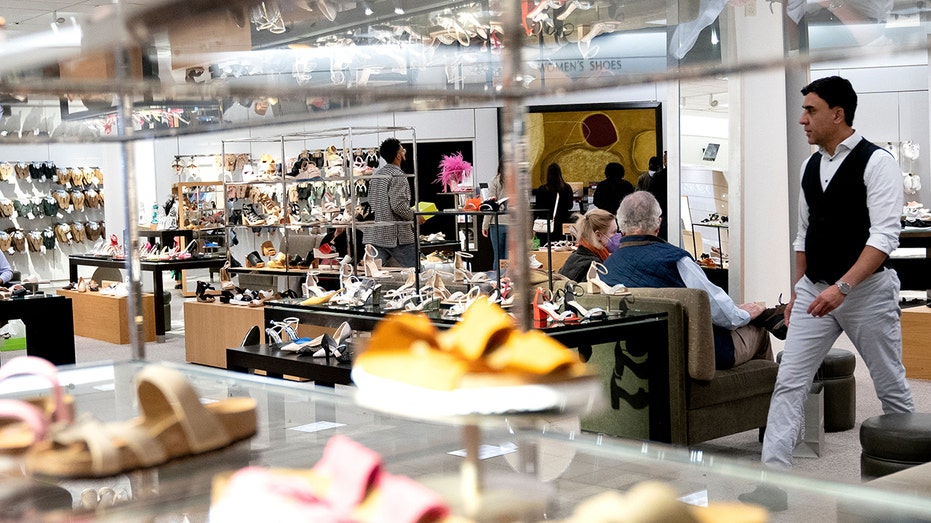 Shoppers walk through a store at Tysons Corner Mall in Tysons, Virginia, on April 2, 2022. ((Photo by STEFANI REYNOLDS/AFP via Getty Images) / Getty Images)

GET FOX BUSINESS ON THE GO BY CLICKING HERE

Officials have already approved eight straight rate increases, lifting the federal funds rate to a range of 4.5% to 4.75%, well into restrictive levels. In recent weeks, policymakers have indicated that rates may need to climb higher than previously anticipated in the face of hotter-than-expected economic data.

However, rate-hike expectations were thrown into uncertainty after the implosion of Silicon Valley Bank on Friday roiled global markets and triggered fears of a broader financial meltdown. 

About 58% of investors now expect the U.S. central bank to pause its tightening trajectory during its two-day meeting on March 21-22 amid fears over the banking system, according to the CME Group's FedWatch tool, which tracks trading.

Source: Read Full Article