Flight canceled or disrupted? Know your rights
video
Southwest Airlines' customers remain loyal despite service meltdowns: Sal Lagonia
Aviation attorney and pilot Sal Lagonia discusses the travel troubles plaguing Southwest Airlines on 'Cavuto: Coast to Coast.'
Winter weather has resulted in thousands of flight cancellations at airports in the South and more may be on the way as a looming polar vortex is expected to arrive in the Northeast this weekend, so travelers should be aware of their rights when airlines cancel or delay flights.
More than 2 million travelers had their flights canceled or delayed in recent months due to a mix of bad weather, Southwest Airlines' scheduling meltdown, and the accidental outage in the Federal Aviation Administration's Notice to Air Missions (NOTAM) system that led to the first nationwide ground stop since the Sept. 11 terror attacks.
Airlines are required by law to offer travelers whose flights were canceled for any reason a full cash refund that also covers baggage fees and other related charges. While airlines may offer other credits or air miles as compensation that could be a more attractive deal for some consumers, they are still obligated to provide a cash refund if one is requested.
BUTTIGIEG SAYS US NEEDS TO 'PICK UP THE PACE' ON FAA MODERNIZATION AFTER NATIONWIDE GROUND STOP
Cancelled Southwest Airlines flights are seen in red on the flight schedules at the Southwest terminal at the Los Angeles International Airport, on Tuesday, Dec. 27, 2022. The Dept. of Transportation is looking into flight cancellations by Southwest (AP Photo/Damian Dovarganes / AP Newsroom)

Transportation Secretary Pete Buttigieg noted that little-known policy in a FOX News op-ed published in November and added that if an airline fails or refuses to issue a refund, travelers should go to the Department of Transportation (DOT) website and report the issue. 

"To date, we've helped passengers recover hundreds of millions of dollars in required refunds, and we will do everything we can to get you the money you're owed," Buttigieg wrote.

The DOT has also created an Airline Customer Service Dashboard that can help travelers compare the services various airlines offer when flights are canceled or delayed, so they are aware in advance while booking their flights. Buttigieg's op-ed noted that since the release of the dashboard, nine of the 10 largest airlines have started offering compensation for meals and hotels, and all of those 10 now promise free rebooking.

DOT LAUNCHES INVESTIGATION INTO SOUTHWEST AIRLINES OVER HOLIDAY FLIGHT CANCELLATIONS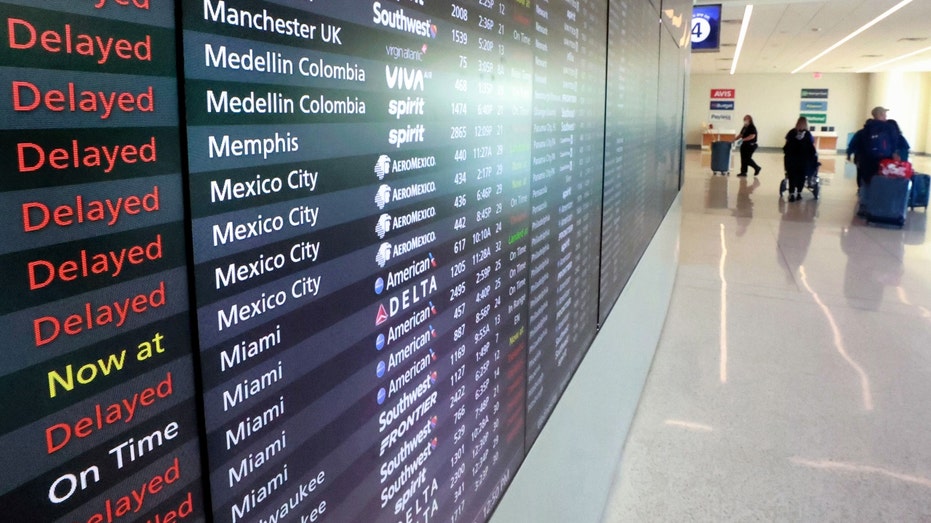 Passengers walk past a flight status board in Terminal C at Orlando International Airport that shows many delays, Wednesday, Jan. 11, 2023, after the FAA grounded all U.S. flights earlier in the day. Flights were grounded nationwide for the first tim (Joe Burbank/Orlando Sentinel/Tribune News Service via Getty Images / Getty Images)

Several other regulatory policy changes are in the works at DOT that would make air travel easier, including rules that would better protect customers who have to cancel flights because of illnesses like COVID-19, increase transparency over hidden fees, and require refunds when services customers have paid for do not work, like in-flight Wi-Fi for example.

Congress is also looking at reforms to policies affecting airlines and the systems they utilize following the NOTAM crash. Last week, the House passed the NOTAM Improvement Act on a bipartisan 424-4 vote less than two weeks after an outage occurred due to a mistake by contractors who "unintentionally deleted files" performing routine system maintenance. 

The NOTAM system is a vital tool that provides pilots information about issues and delays that may affect flight plans or pose a safety hazard. Prior versions of the bill also passed the House with broad support before stalling in the Senate, but there may now be a greater awareness of the flaws in the system that the FAA called "failing vintage hardware" in a recent budget request.

BIDEN'S PICK TO HEAD FAA UNDER FIRE ALONG WITH ADMINISTRATION
Hundreds of Southwest Airlines checked bags are piled together at baggage claim at Midway International Airport, Dec. 28, 2022, in Chicago. Congress is reviewing air travel reforms following recent debacles like the one that affected Southwest Airlin (AP Photo/Erin Hooley, File / AP Newsroom)

A group of Democratic senators, led by Sens. Richard Blumenthal (D-Conn.) and Ed Markey (D-Mass.), also reintroduced legislation to empower travelers in their dealings with airlines through a pair of bills known as the Airline Passengers' Bill of Rights and the Forbidding Airlines from Imposing Ridiculous (FAIR) Fees Act.

The Airline Passengers' Bill of Rights Act would require compensation, refunds, and create a path to recourse following airline-caused flight delays and cancellations. Airlines would also be required to pay customers who are blocked from boarding an overbooked flight at least $1,350 and also be mandated to immediately refund bag fees for damaged or lost bags under the bill.

The FAIR Fees Act would prohibit airlines from charging unreasonably high fees for basic services like checked bags, seat selection, and ticket changes. Its provisions are also included in the Airline Passengers' Bill of Rights Act.

GET FOX BUSINESS ON THE GO BY CLICKING HERE

Both bills were introduced in the last Congress but failed to receive a vote in the Democrat-controlled Senate or attract any Republican cosponsors. It remains unclear whether their prospects may improve in the current Congress, as bipartisan support will be required for any legislation to pass both chambers and be signed into law.

Airlines have expressed opposition to the Democrats' bills, as a spokeswoman for the trade group Airlines for America said that "instituting government-controlled pricing, establishing a private right of action and dictating private sector contracts" would hurt competition and result in a "subsequent increase in airfare prices and potential cut in services to small and rural communities."

Fox Business' Ken Martin and the Associated Press contributed to this report.

Source: Read Full Article